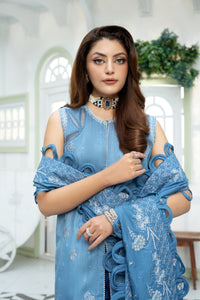 Product Details
Color: Ocean Blue
Includes: Shirt, Trouser, Dupatta
Fabric:
Cotton net shirt + dupatta.
Shirt's cotton net type is different from the dupatta.
Korean raw silk trouser.
Work Technique:
Multi head embroidery + laces+ stitching details.
Description:
This ocean blue cotton net shirt is adorned with intricate embroidery and delicate lace detailing. When paired with comfortable Korean raw silk trousers and a matching dupatta, the outfit becomes an emblem of elegance and sophistication.

Choose a handbag in a coordinating shade to carry your essentials with confidence.
Size: S,M,L,XL
Shipping Days: 10-12 working days.
Package Weight:  Free delivery all over Pakistan. Package weight will be checked for international orders.
Note: 50% advance on order confirmation and 50% remaining can be paid on COD or bank transfer.
Disclaimer
*The actual colors of the outfit may vary from the colors displayed on your device. Since each piece is custom-made, lace detailing might vary.